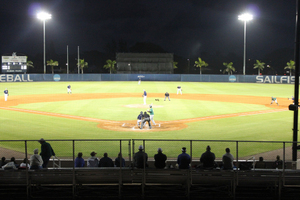 The #1 Palm Beach Xtreme and #6 Boca Raton Blazers will face off tomorrow in the 3-game SFCBL Championship Series starting at 10AM at Little Fenway in Delray Beach. Game 1 will feature Xtreme ace RHP Trey Jones (Brewton-Parker) and RHP Matt Semon (St. John's). Jones, has put up excellent stats this season striking out 35 batters in 35.1 innings and yields a 2.29 ERA. Semon, has struck out 21 hitters in 15 innings yielding a 3.60 ERA.
In the 10AM game today the Palm Beach Xtreme eliminated the Boynton Beach Buccaneers 6-3 and were led offensively by Tyler Fote (Dayton) who was 2 for 4 with 3 RBI's. Nic Daniels (St. John's River State) threw 7 innings giving up 2 runs and had 3 strikeouts.
In the 1PM game the Boca Raton Blazers defeated the West Boca Snappers 2-1 in a tense game. Cayden Shaver (Murray State) hit a solo home run which proved to be the game winning run for the Blazers. RHP Benny Wilson (George Washington) earned the win in his spectacular relief appearance where he struck out 6 batters in 4 innings. Danny O'Donnell (National Park C.C.) earned the save.