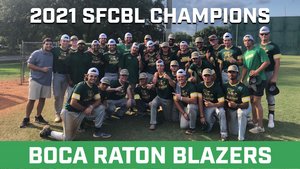 For the first time in SFCBL history a 6 seed has won the SFCBL Championship as the Boca Raton Blazers defeated the #2 Palm Beach Xtreme in the 3-game series. In Game 1 the Blazers defeated the Xtreme 7-6. The Blazers put up a 5 run top of the 9th inning as Daniel Labrador (St. John's River State) blasted a 3 run home run to pull the Blazers within 1 run. Shane Magrann (Florida Atlantic) then hit a 2 RBI double which proved to be the game winning hit. Matt Semon (St. John's) threw 6 innings striking out 5 batters and giving up only 2 hits. Ethan Rembish (Fairleigh Dickinson) earned the save striking out 2 batters in 1 inning.
For the Xtreme Trey Jones (Brewton-Parker) pitched excellent throwing 6 innings and striking out 4 batters while walking none.
In Game 2 the Blazers defeated the Xtreme 5-4 in a tense battle that boiled down to the last out. Jack Clarke (Florida Atlantic) had the game winning 2 RBI double off the left field wall. Sawyer Feller (Harvard) was 2 for 2 with a double and an RBI in the win. Mat Magrann (Austin Peay State) got the win throwing 5.2 innings and striking out 6 batters while Zac Schultz (Emory) earned the save.
For the Xtreme short stop Nick Romano (Georgia Tech) was 2 for 4 with a HR and 2 RBI's. Jordan Schulefand (Richmond) was 2 for 3 at the plate and also pitched 3 innings striking out 5 batters.