Coaches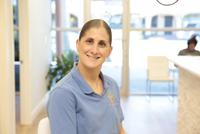 Allison Scheckner MS, RD
Team Nutritionist
E-mail:
Allison, her husband, and their 2 girls relocated from New York to South Florida in July of 2016. Missing being part of a "team", Allison joined the team at Miller Physical Therapy in September, 2017, where she provides a wide variety of duties relating to scheduling, organizing and working on operational facets to ensure that Miller Physical Therapy runs smoothly and clients are well taken care of. At the same time, Allison is helping to develop programs related to nutrition and healing at Miller PT.
For as long as Allison can remember she has always wanted to make an impact on the lives of others. It was while she was working closely with oncology patients during her senior nursing internship at Bringham and Women's Hospital, in Boston Massachusetts that she realized that the field of nutrition and dietetics was her path to directly impact others.
Allison received her Master's in Clinical Nutrition from New York University and a Bachelor's degree in Nursing from Syracuse University. She completed her Dietetic Internship at St. Lukes Roosevelt Hospital in New York City. Allison has over 15 years of experience as a Registered Dietitian. She has worked in renowned medical centers in New York as part of bariatric and clinical nutrition teams. Her specialties include weight loss, bariatric surgery, healing post-surgery, chronic disease prevention and management, and general healthy eating. Allison is known to collaborate with her clients to create individualized, realistic, and sustainable nutrition plans that allow them to achieve and follow a healthy lifestyle as well as enjoy life.