Coaches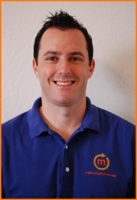 Scott Miller MPT
Team Physical Therapist
Phone:
561-278-6055
E-mail:
Miller Physical Therapy
Website: www.miller-pt.com

With a substantial and impressive background in treating professional athletes, Scott runs his programming so that each therapeutic program developed is tailored to the athlete's individual needs, fitness goals, and physical history.

Scott combines the best in time-tested traditional treatments with cutting edge technology.
When it comes to injuries and impairments, Scott and his Team will be working with our athletes in areas such as:

~ Specific sports-related injuries
~ Overuse injuries
~ Post-surgical ligament and tendon repairs and reconditioning
~ Post-surgical joint replacement
~ Neck and back pain
~ Bursitis
~ Tendonitis

To facilitate the healing process and encourage the maintenance of strength and flexibility, Scott works his programs for the athletes to include:

~ Position-specific training
~ One-on-One training and therapeutic sessions
~ Orthopedic rehabilitation
~ Manual therapy
~ Lumbar (lower back) stabilization programs
~ Injury prevention programs
~ Ergonomic assessment
~ Pain management
Scott Miller is a licensed Physical Therapist in the state of Florida and an active member of the American Physical Therapy Association. He is a certified health and fitness instructor by the American College of Sports Medicine, and CPR & First Aid certified by the American Red Cross. An alumnus of Nova Southeastern University, it was there where he received his MPT in Physical Therapy.
To learn more about Miller Physical Therapy and to book a complimentary consultation please visit Miller-PT.com