Coaches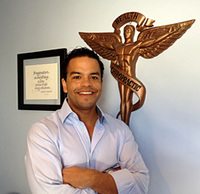 Dr. Andrew Bosier
Team Doctor
Dr. Andrew Bosier was born and raised near Ocala, Florida. In his junior year of high school he participated in a mentor program and was introduced to chiropractic for the first time.
"The mentor program changed my life," Dr. Andrew recalls. "On my first day, I saw a man come into the office in a wheelchair. One week later the man walked into the office. After seeing the man's amazing recovery and speaking to other patients who said that chiropractic adjustments were the only thing that helped them get out of pain, I wanted to become a chiropractor. I wanted to learn more about body's innate ability to heal."
Dr. Andrew received his Bachelor of Science in Biology and in 2007 he graduated from Life University in Marietta, GA, where he received his Doctorate of Chiropractic.
Dr. Andrew treats patients of all ages and believes that chiropractic care should be a family affair. He uses instrument adjusting when necessary or requested but prefers a hands on approach. Dr. Andrew practices with the understanding that every individual is different and must be treated accordingly. He believes the ability to listen is a doctor's greatest tool and natural is the best medicine. He is knowledgeable in many areas and enjoys public speaking on the topics of health and wellness, exercise, and nutrition.
Dr. Andrew's other interests include family beach days on Sunday, Gator football and fishing, to name a few.